Services for Business
Training and services for business
We offer a range of services to support and benefit local businesses. By working with us you will not only be supporting your local charity, you will also be contributing towards your corporate social responsibility.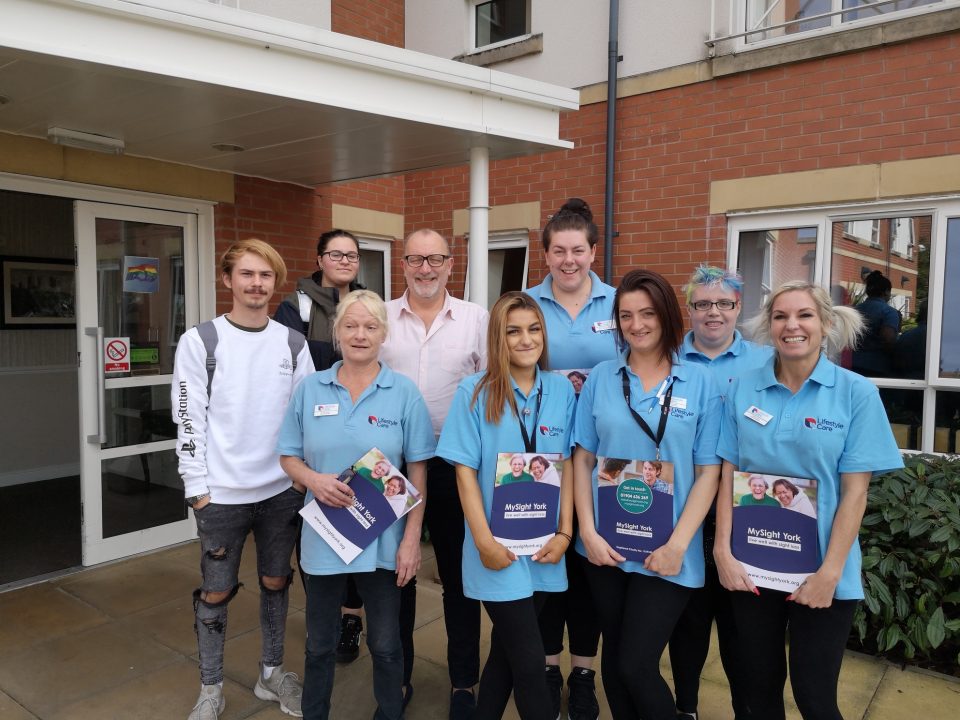 Sight Loss Awareness Training (SLAT)
What is SLAT?
Our SLAT course is a practical and engaging training session, aimed at helping people understand the needs and concerns of people with a visual impairment. We offer two hour training sessions that can delivered at your premises or at an alternative venue to suit your needs. We are also able to deliver bespoke training to meet your needs.
Our training covers;
Key sight loss facts, tips and guidance
Challenging sight loss stereotypes and misconceptions
Experiencing what it is like to live with sight loss using our sight loss simulation specs
Practical tasks to help embed understanding of the challenges people living with sight loss face on a daily basis.
Learning how to guide someone with sight loss.
How will I benefit from SLAT?
Over 2 million people in the UK are currently living with sight loss, which is expected to rise by 2.9 million by 2030; making sight loss awareness more important than ever before. Would you or your staff know how to interact with a customer who has sight loss?
SLAT can benefit you by:
Enabling you to understand sight loss, and the challenges faced by people living with sight loss on a daily basis
Attracting new customers
Improved customer experience and higher quality service
Setting your business apart and giving you a unique selling point
Demonstrating Corporate Social Responsibility (CSR).
Testimonial:
"Our staff found the training really useful and interesting, in particular, finding out the varying day to day challenges people might face with different levels of sight loss. Staff particularly engaged with the practical exercises as it helped to put them in the place of someone with sight loss and that is always a very valuable learning experience. Our organisation would highly recommend these training sessions and we will certainly use the skills to enhance future visits for people with sight loss." York Archaeological Trust
The training has also been completed by:
York Museums Trust
York Army Museum
Ivy Lodge Care Home
International Service
Ryedale Sight Support
Halifax Society for the Blind
Red Cross Community Connectors
National Railway Museum
Abbeyfield York
Minster Grange Care Home
Treasurers House
Transcription Service
We can also help you to provide accessible information to your customers through our transcription service.
We can transcribe documents into:
·       Large Print
·       Braille
·       Audio – CD or MP3 formats
Contact us on 01904 636269 for further details on any of the services above.