Who We Are
We are a user led organisation with a membership of around 1350 visually impaired people living in the York area.  Membership is free, and gives an entitlement to vote at our Annual General Meeting and elect the members of our governing body (Trustees).
Our Board of Trustees has 6 members and we strive to ensure that half of the Board are people with personal experience of sight loss.
Martin Fawcett
Chair
Former Vice Chair Martin took over as Chair of MySight York in October 2020.
Martin has a background as a project manager in Financial Services. Outside of work he's a keen Rugby League fan and a loyal supporter of Hull Kingston Rovers. He also runs and paints, though he insists his canvases are for purely private enjoyment.
Reflecting on his new role, Martin said, "I see the immediate challenges of the current environment we live in as key, but also I see that the way everyone has responded to the tasks ahead as being the immediate opportunity too. Often how people respond in difficult circumstances is a fantastic indicator of how we can take advantage of the future. In so many ways, crisis brings creative thinking. I think that with the support of the Board, members and a great team, we can ensure that the continued commitment, innovation and ability to respond remain deeply embedded in the DNA of MySight York for years to come."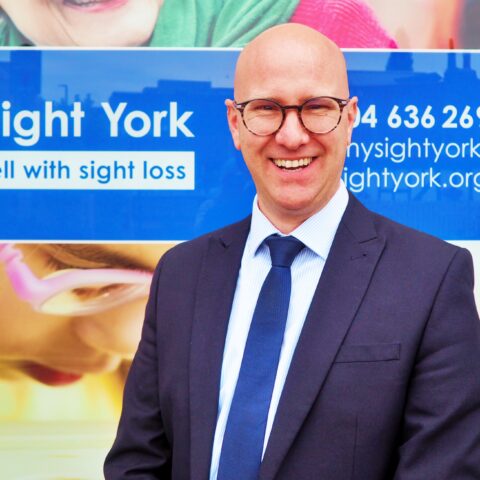 Scott Jobson
Chief Executive
Scott joined MySight York as Chief Executive in June 2020. He brings with him a wealth of experience in the charity sector, having previously worked for RNIB as Network Manager for Yorkshire and Humberside and before that as a national fundraising lead. He has also been Head of Volunteering for Hartlepool and District Hospice and has 10 years experience as a trustee for two youth charities. We are very much looking forward to benefiting from his expertise and sharing his vision for the future of the organisation.
MySight York
Board of Trustees
Martin Fawcett – Chair
Paul Broadberry
Annette Gamston
Barbara Capaldi
David Gawthorpe
Eleanor Tew