Who We Are
We are a user led organisation with a membership of around 1350 visually impaired people living in the York area.  Membership is free, and gives an entitlement to vote at our Annual General Meeting and elect the members of our governing body (Trustees).
Our Board of Trustees has 10 members and we strive to ensure that half of the Board are people with personal experience of sight loss.
John Sole
Chair
Tell us who you are,
Hi. I'm John Sole and I joined MySight York as a Trustee in February 2023.
We moved close to York in the summer of 2022 from South Gloucestershire where I spent most of my life and met my wife Geraldine and where we brought up our son.
He decided to study at York University and settled in York. We now have a granddaughter, and hence the move up.
Most of my working life has been in the charitable sector,  RNIB, Social Enterprise, Advocacy and regulated care management. Currently working as Head of Strategy and Plans at Blind Veterans UK.
Why did you become a MySight Trustee?
Living with Nystagmus that was even lesser known when I was growing up and engaging with education, in the 60's and 70's. Registering as Partly Sighted in the 80s. Through various jobs and negotiating the physical and social environment. I have learnt many lessons and coping strategies.  It is interesting to reflect on societies progress or lack of, depending on the situation. From this limited experience, I want to ensure we do everything we can to remove barriers for anyone with sight loss.
What do you most enjoy about being a Trustee?
It's sharing the commitment to make a difference.  It's also about sharing knowledge, ideas and support from across the sector and the local community.
Hearing first-hand peoples challenges and how MySight York is making a difference is rewarding.
What do you do away from MySight?
Being a grandfather and participating in the little one growing up. Exhausting but rewarding.
Moving into a house built in the late 1800s means lots of DIY that generally goes well.  My early career was in horticulture, commercial growing and then landscaping. I still love growing, and transforming our neglected garden back to it's former glory.
When it's cold and wet, cooking takes over.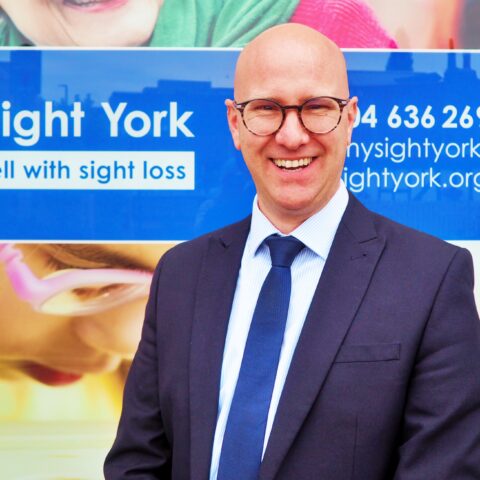 Scott Jobson
Chief Executive
Scott Jobson joined MySight York as Chief Executive in June 2020.
With a profound passion for community development and a dedicated commitment to enhancing the lives of people with visual impairments, Scott has been at the forefront of driving positive change here at MySight York.
Drawing upon his extensive experience in the non-profit sector and his deep understanding of the challenges faced by blind and partially sighted people, Scott has led the organisation to new heights of impact and influence.
As the Regional Chair of Visionary (representing local sight loss organisations) Scott is known for his approachable demeanour, always willing to listen, engage, and support those around him.
Under his leadership, MySight York has expanded its services, developed innovative programs, increased reach and forged strong collaborations within the local community and beyond. His unwavering commitment to inclusivity and accessibility has helped lead a supremely talented team, transforming the lives of countless individuals and their families.
As Chief Executive, he continues to steer the organisation towards a brighter, more accessible future, where barriers are dismantled and possibilities are limitless.
Eleanor Tew
Trustee
Tell us who you are
Hi. I'm Eleanor Tew. I moved to York in 2013 and have been a trustee since 2014.
Why did you become a MySight Trustee?
I thought that my experience as a blind person and what I had learnt about charities from working for the Charity Commission might come in useful.
What do you most enjoy about being a Trustee?
The chance to bring the concerns and perspective of service users to the Board. This is particularly important at the moment as we have so few visually impaired trustees.
What do you do away from MySight?
I enjoy walking, swimming and tandem cycling. I knit and sing and play chess.
Annette Gamston
Trustee
Tell us who you are.
Hi, I am Annette Gamston and I have been a trustee of MySight York since 2019. I am a Yorkshire lass, born in Ripon and, having lived all over the country, find myself back in glorious Yorkshire with my partner, his son and Jennie the cat.
Why did you become a MySight Trustee?
As a project manager who has worked across multiple industries, I am lucky enough to have had some great roles and it feels right to give back. I wanted to work with a local charity and, as I have family members with eyesight challenges, MySight seemed the ideal fit.
What do you most enjoy about being a Trustee?
Spending time with likeminded people in support of MySight. I enjoy helping MySight to run effectively so that the staff team can get on and deliver what they do so brilliantly.
What do you do away from MySight?
Away from MySight, I am still a freelance project manager.
Family wise, we are often outside, cycling, walking, camping, gardening etc. Indoors, we all love reading, films, cooking and a bit of DIY on our old house.
Mike Crouch
Trustee
I was a Trustee, Vice Chairman and a befriender of  MySight York (known as YBPSS) for many years until 2009 when I retired and moved to South Northamptonshire to be nearer my children and grandchildren.
I continued with trusteeships of a number of charities down here and found that one of the benefits of the Covid Pandemic was that organisations could still operate effectively by having remote meetings, e.g. by Zoom.
Having maintained my contact with MySight York over the years this seemed like an ideal opportunity to formally support it again, albeit from 160 miles away, by attending meetings remotely.
After due consideration the Board agreed and here I am again!
Andrea Glover
Vice Chair
Hello Everyone, I'm delighted to be joining you as a new Trustee for My Sight York.
My background was many years in the commercial world before I moved into the Third Sector. I worked in a number of fundraising roles within major charities and politics before I joined RNIB in 2014 leading their community fundraising function for the north of England.
I've held several roles within RNIB across income generation, community connection, strategy and performance, and now work to engage across third sector partners to ensure that we collaborate effectively for the benefit of blind and partially sighted people. I look forward to being able to contribute to the future of My Sight York and understand what it is you want from your local society.
Caroline Clifford
Trustee
I have lived in York 20 years now and my day job is managing a compliance team for a charity involved in the training industry.
I hope my knowledge and experience will contribute to helping the board in leading the organisation and ensuring good governance.
Nicola Walker
Trustee
Nicola joined the Board of Trustees in March 2023 and works for NHS England
Martin Fawcett
Trustee
Tell us who you are
Hi. I'm Martin Fawcett and I've been a Trustee off MySight York for almost 4 years now, with just about a year and half of that time being Chair also. I'm originally from Hull but over more years than I care to remember, I've moved around and ended up living close to York about 20 years ago with my wife Beth, who is from close to Halifax. They do say Hull, Hell and Halifax don't they!
Why did you become a MySight Trustee?
There are lots of reasons I became involved in MySight. Having worked in Financial Services for so long I wanted to get involved in something that really makes a fundamental difference to people. My dad was partially sighted and in 2015 I had a Trabeculectomy surgery at York eye hospital and became aware of MySight then. I've spent many an hour since then in Area C at York eye hospital! When the opportunity arose to become a Trustee I knew it was something I wanted to do.
What do you most enjoy about being a Trustee?
There are so many things I could choose, but I think working with some of the staff and seeing their dedication is really humbling. Seeing something go from an idea to a service and then receiving greet feedback from members is great. That's been particularly so through the Covid pandemic, when MySight and its staff continually delivered over and above expectations. Helping that happen, even in a small way is really rewarding and to see how the members value the team at MySight is amazing. Being a partial user of related services and a potential bigger user myself, makes it even more powerful.
What do you do away from MySight?
Away from MySight, I still work in Financial Services. To be honest that background has given me some skills which can be useful as a Trustee and Chair, but so can any gained life skills – we will make the best use of them.
I play the guitar, badly. I draw and paint a bit, badly. I grew up on Rugby League and still have a season ticket for Hull Kingston Rovers. I still love to run but to be honest I do that badly too.